Beauty & Self
Books & Music
Career
Computers
Education
Family
Food & Wine
Health & Fitness
Hobbies & Crafts
Home & Garden
Money
News & Politics
Relationships
Religion & Spirituality
Sports
Travel & Culture
TV & Movies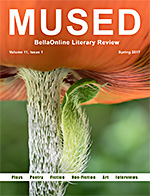 In our modern world of 24-hour diners and around-the-clock email, it sometimes seems as if we've lost track of nature's cycles. But then the Spring Equinox comes along and reminds us to pause. For thousands of years, cultures around the world have recognized this one special day as representing a balance of light and dark. It's a unique moment in time where our world settles in equilibrium – just for a breath. And then the sunlight shines out and pulls us deeper into Spring.

Enjoy the Mused Spring Equinox 2017 Issue



Sewing Details, Old and New
Sewing - Cheryl Ellex, Editor

The invention and general acceptance of the slide fastener or zipper as we have come to know it allowed garment sewing to become a more efficient endeavor for the home sewer. In addition, the rise of sewing pattern companies greatly enhanced the abilities of home sewers to clothe their families.




Fat Foods – What are Good Fats vs Bad Fats?
Nutrition - Moss Greene, Editor

What are Good fats and bad fats? Studies show that healthy fats = a healthy heart and bad fats = an unhealthy heart. Here's how to know good fat vs bad fat.




Beauty And The Beast (1991)
Movie Mistakes - Isla Grey, Editor

Young Belle takes the place of her father as the prisoner of a mysterious Beast who lives in an enchanted castle. Try to find these movie mistakes in 1991's "Beauty and the Beast".




How To Stop An Argument In Its Tracks
Stress Management - Debbie Mandel, Editor

Six steps to end destructive arguments. Don't blow up bridges, build them.




Circus Party Crafts
Crafts for Kids - Launa Stout, Editor

Do you have a crafty kid? Someone who enjoys creating and wants to share the fun with her friends? Involve them in every aspect of their birthday party for extra fun and enjoyment.




Complete Idiot's Guide to the Mafia
History - Vance Rowe, Editor

This article is a review of the book called The Complete Idiot's Guide to the Mafia and is a very informative book on the American Mafia. Written by Jerry Capeci, this book is a must have for anyone interested in the Mafia.


| Google+ |
E D I T O R R E C O M M E N D E D
Simple Delicious Italian Recipes


Simple Delicious Italian Recipes. Authentic Italian recipes easy to follow and simple to prepare, written by Cinzia Aversa, Italian Food Editor at BellaOnline.com. A perfect gift idea for any Italian food lover.
Harvey Penick´s Little Red Book


This isn´t just another one of those instruction books written by a local golf pro. Penick is easily the most insightful instructor the game has seen. Little Red Book is a huge dose of reality about the golf and how to improve your game.
Bird by Bird by Anne Lamott


A funny, unpretentious, sympathetic look at the writing life. The section on allowing yourself to write a crappy rough draft (so you can get it done in the first place) is worth the price of the book alone.